Start your own tradition
START YOUR OWN COOKBOOK
Create new baking traditions with the My Cookbook feature that lets you create your own unique cookbook of our recipes. Explore our delicious Five Roses recipes, collect your favourites, and easily share them with friends and family!
REGISTER TODAY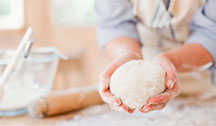 Simply register to start using the My Cookbook feature.

Plus, you'll be able to use the Grocery List feature, keep up-to-date with new recipes, and much more.
A TRADITION TO SHARE AND INSPIRE
For generations, Five Roses flour has been putting smiles on the faces of Canadians by delivering delicious and reliable results. Today, we're continuing that tradition with mouth-watering recipes, and simple tips that we are sure everyone will approve of.