Start your own tradition
DO YOU USE 'MY COOKBOOK'?
All good things must come to an end, and this section will be removed in November of this year. But you can still keep track of your favourites by saving them to Pinterest.
LOG IN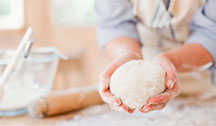 A TRADITION TO SHARE AND INSPIRE
For generations, Five Roses flour has been putting smiles on the faces of Canadians by delivering delicious and reliable results. Today, we're continuing that tradition with mouth-watering recipes, and simple tips that we are sure everyone will approve of.